Favorite Links
CAB FAVORITE LINKS
Favorite Sites
The African Union of the Blind (AFUB) is an umbrella organisation of 57 member organisations of and for blind and partially sighted persons in 51 African countries. We are one of the most active regions of the World Blind Union (WBU), and enjoy observer status with the African Union under then OAU Resolution CM/Res.944 (XL). AFUB is registered as an International Non-governmental organisation in Kenya, where it enjoys semi-consulate status. - See more at: http://www.afub-uafa.org/who-we-are#sthash.80bO2jPH.dpuf
The African Union of the Blind (AFUB) is an umbrella organisation of 57 member organisations of and for blind and partially sighted persons in 51 African countries. We are one of the most active regions of the World Blind Union (WBU), and enjoy observer status with the African Union under then OAU Resolution CM/Res.944 (XL). AFUB is registered as an International Non-governmental organisation in Kenya, where it enjoys semi-consulate status. - See more at: http://www.afub-uafa.org/who-we-are#sthash.80bO2jPH.dpuf
The African Union of the Blind (AFUB) is an umbrella organisation of 57 member organisations of and for blind and partially sighted persons in 51 African countries. We are one of the most active regions of the World Blind Union (WBU), and enjoy observer status with the African Union under then OAU Resolution CM/Res.944 (XL). AFUB is registered as an International Non-governmental organisation in Kenya, where it enjoys semi-consulate status. - See more at: http://www.afub-uafa.org/who-we-are#sthash.80bO2jPH.dpuf
The World Blind Union (WBU) is the global organization representing the estimated 285 million people worldwide who are blind or partially sighted. Members are organizations of and for the blind in 190 countries, as well as international organizations working in the field of vision impairment. ​
Perkins School for the Blind provides education and services for children and adults around the world who are blind, deafblind or visually impaired.
Web site of the Liberian Government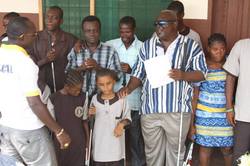 Click on Link to Go to COVID 19 SONG
https://youtu.be/3oXuOdF2UBk
.