Surviving the Ebola Insurgency in Liberia
Written By: Sir. Beyan Kota
LIBERIA CHRISTIAN ASSOCIATION OF THE BLIND,INC.
REPORT COVERING CAB'S INTERVENTION ON EBOLA PREVENTION OUTREACH AND
AWARENESS ACTIVITIES IN FIVE COUNTIES
PICTORIAL VIEW OF CAB'S INTERVENTION "EBOLA PREVENTION OUT REACH AND AWARENESS"CAMPAIGN LUNCHED AND SOME ITEMS DISTRIBUTED
MOTTO: CHRIST, THE ONLY REMEDY
OVERVIEW OF THE REPORT:
THIS REPORT COVERS THE CHRISTIAN ASSOCIATION OF THE BLIND .INC "CAB'S EBOLA PREVENTION OUT REACH AND AWARENESS ACTIVITIES, FROM October 30, 2014 THRU February 28, 2015 HELD IN FIVE OF THE SEVEN COUNTIES THAT CAB IS CURREMTLY OPERATING IN.
The official lunched of this all important activity took place on January 30, 2014 at the cab's national resource center for the blind, located in vai town on the Monrovia Robertsfield highway, Paynesville city, Montserrado county, Liberia, west Africa. This unique ceremony was performed by dr. yanquoi karbor – registrar general, Liberia medical and dental council.
Prior to the official launch of the CAB Anti-Ebola Community Outreach, the leadership of the association spent time undertaking research to know the history of the Ebola epidemic, its transmission characteristics, the social and economic impact and cost on human existence. Later, the CAB leadership undertook necessary precautionary measures to protect itself from contracting the virus by spending its own funds to secure few needed materials such as buckets with fosets, chlorine and soap which we used to protect ourselves against the Ebola Virus. The preventive measure was first introduced at our respective homes and at the National headquarters of the association.
The method of prevention and treatment was then disseminated to members of the association and student populace who were undergoing education and rehabilitation at the Center For The Blind. This was prior to the Ebola outbreak and they could not immediately return because of government's imposition of the state of emergency which restricted the free movement of people, goods and services.
Our initial step to combat the Ebola Virus resulted in to a thorough cleaning of office and toilet facilities at the Center for the Blind with water containing chloride and soap. This clean –up exercise with locally made disinfectant extended to the classrooms, dormitories, the assembly hall, dining and the clinic We also made provision for the immediate treatment of safe water at the center for the blind and the disinfestations of the piggery and poultry houses. Of course, the entire land area of nearly 5000 feet square was treated and cleaned as well.
Social workers and caregivers, many of whom have rendered voluntary services to the association and students at the Center For The Blind were asked to stay home for fear of traveling with the virus and spreading it among office staff or center facilities during working hours which by extension, would have had a catastrophic effect on the leadership of CAB.
In less than four weeks, the leadership of the association had organized a hygiene and sanitary practice requiring all leaders, social workers, and caregivers volunteers' members students, well wishers coming and leaving Center Facilities to abide by health regulations to avoid contracting the virus so as to ensure safety among the blind and partially sighted.
Every member of the CAB leadership and all other center staff were sensitized to these safety regulations and we observed it by washing our hands regularly and we practiced to avoid touching or hugging one another and We made it our responsibility to nurtured blind and visually impaired kids in to this unfriendly culture of life as a way of staying save.
During our regular fellowship, we spent time sharing new information about the Ebola Virus Disease with one another. We made efforts to ascertain the rate at which the virus was spreading in communities and put in place stern measures to avert any outbreak at the center for the Blind. We collaborated with mainstream organizations including women groups within the community who had taking up the task of community tracing of the sick and surveillance on strangers traveling in and out of the community. This also enabled the association to track Ebola related development in our community and its surroundings and other parts of the country. We also collected data from the print and electronic media and from the worldwide web on the negative impact of the virus on the general public and the state own measures in fighting the Ebola epidemic in Liberia.
The leadership of CAB also tapped in to the artistic and music talents of some other members and student populace of the association residing on campus at the time, whose beautiful singing and artistic creation and performance and the daily delivery of Christian sermons messages envigorated hope and strengthened the leadership of the organization. We rallied hope and developed the confidence to work for the common good of the blind and advance the progress of those blind and partially sighted who had lost the purpose of living as a direct result of this insidious Ebola virus disease.
With renew hope vigor, we sang the CAB ODE and we learned to put our acts together as an organized blindness movement. This inspired the courage to press on in wake of the Nation's Ebola calamity a situation in which the foundation of humanity had been terribly threatened and men had lost all meaning of living. The vulnerability of the blind and partially sighted in this part of the world had heightened and many felt abandoned.
We took up the lead and initiated the development of the CAB Ebola Jingle to highlight the sensitive needs of the blind and partially sighted as a vulnerable sector of the society whose needs and concerns must not be forgotten by authorities and state actors in these period of our national crisis. Organization of and for the blind and partially sighted must not lose sight of its purpose, mission and vision in whatever circumstance. Blind and partially sighted people must endure the strength and develop inspiration to raise the hope of the blind in doom and gloom and seek to raise their needs and concerns and represent them by ensuring selfless leadership and keeping hope alive.
,
THESE INTERVENTION WAS MADE POSSIBLE THROUGH THE DANISH ASSOCIATION OF THE BLIND (DAB), BY GRACIOUSLY HONORING A PROPOSAL SUBMITTED BY CAB. THAT PROPOSAL MADE A CASE IN SOLICITING ASSISTANCE FOR CAB'S THREATENED VENERABL MEMBERSHIP.
IT IS OUR HOPE THAT THIS REPORT WILL PRESENT A CASE AND MAKE SOME SENSE TO STIMULATE ADDITIONAL ASSISTANCE FOR CAB.
EXECUTIVE SUMMARY ON CAB:
The Christian Association of the Blind (CAB) was founded by a group of young Blind persons and dedicated professional sighted person on April 28, 1985 in the City of Monrovia, Montserrado County Republic of Liberia. CAB was founded primarily to cater to the educational and social development needs of the Blinds and Visually Impaired persons within the Liberian Society.
Since that time, CAB has been faced with all kinds of challenges ranging from representation in National Decision Making Process on issues affecting the Blind and Visually Impaired persons, inadequacy of programs gear at income generation and individual decision-making process affecting the Blind, limited opportunities for the employment of competent Blind persons in the government and private sectors; the lack of political will on the part of the National Government to implement national policy aimed at servicing the needs of the Blind; the problem of equal opportunity for the Blind to access quality education at State University, and other social services, etc.
Accordingly, the primary goal of CAB, is to ensure the full and social inclusion of the Blinds persons in all aspects of community as well as public life by empowering the Blind and working towards the eradication of all forms social discrimination and/or marginalization currently being meted out against us the Blind.
As envisaged in our Mission, CAB is committed to humanizing the treatment of all Blind persons in Liberia, irrespective of sex, age, relation or other considerations, through education and training for social empowerment, integration and equal opportunities for sustainability and dignity of the individual Blind persons and Social Protection.
To strengthen members of the organization and create unity of purpose amongst them, through capacity building and advocacy in partnership with the Governments, International Non-Governmental Organizations, Agencies and other stakeholders.
NARRATION ON INTERVENTION ACTIVITIES:
As such, with those commitments and dedications, read above, the Leadership of CAB was troubled and concerned when the first two cases of the deadly Ebola Virus broke out on March 17, 2014 in Foyah, Lofa County. While in the mode of contemplation on what to do for its membership, then came the news of the second outbreak which occurred in Bo Waterside, Grand Cape Mount County, as the result of cross boarder actives/trade with Sierra Leone, with three person being victims.
After these two cases, the Ebola Virus Disease spread so rapidly in Montserrado, Lofa, Bomi, Grand Cape Mount, Margibi, Nimba, Bong Grand Bassa, Grand Kru, River cess River Gee, Maryland Counties with splinter and sporadic cases popping up in other counties which had an odd toll, impacted and overwhelm our national health sector, facilities and services with almost no capacities "Hospitals and Clinic were not equipped to cope with this graved epidemic".
By August 6, 2014, Ebola cases had raisin so high with not only ordinary citizens dying, our medical Practitioners "Nurses and Doctors" were victims and they died as well. The Government of Liberia was compelled to declare a three months (90-Days)"National State of Emergency" and posed Night Curfew "10:00 PM - 6:00AM", scaled down official business, declared some staffers non-essential and were sent home, the Government order all schools and boarders closed. The deadly Ebola Virus Disease confused everybody and created panic for all. This deadly Ebola Virus has the propensity to have closed down the nation and its economy and wipe out the people in Liberia. All sectors were heavily impacted, especially Health, Education, Agriculture and national revenue generation.
The Government through its President Madam Ellen Johnson Sirleaf established a National EBOLA Task Force and sent out an urgent SOS call to the world at large, asking them to come to our (Liberia's) aid. She made specific request for Medical Supplies, Clinical Supplies, Medical Equipment, Vehicles & Ambulances, Drugs, Nurses, Doctors, Chlorine, EPPs etc.
Immediately the International Community, INGOs, NGOs, Business houses, organizations, individual, Churches and sister countries, begun to come to the nation's aid, with Doctors, Nurses Funds, supplies, ETUs, EPPs. Some of whom quickly responded, were China, Germany, Uganda, Kenya, Canada, Japan, , ICRC World Bank, UNDP, UNICEF, WHO, United States of America contributed and sent 4000 troops and many other countries, groups, individuals and sympathizers from the world did identified with Liberia.
The Ministry of Health & Social Welfare with international partners, strongly strategized on ways to fight the deadly Ebola Virus at all fronts, developing preventive and sensitization messages and protocols for people to follow and those lay down rules and guidelines were disseminated everybody to adhere to.
The membership of CAB and the Blind were not exempted nor did an exception, the deadly Ebola Virus also affect CAB negatively. At the time the Government of Liberia published a report which indicated that the country was hit very hard with deaths and infectious rate being recorded across the country daily, thereby leaving hundreds of thousands in the state of confused minds, fear and vulnerability to the virus. As such, nationwide movements of people were restricted; the Blind were even more vulnerable to contracting the deadly Ebola Virus, given its problem with the loss of vision, created additional hardship for us.
In the interim, in August 2014, a member of CAB, Mr. Samuel Larma wife contracted the Ebola Virus and died in Monrovia. Three days after he also died leaving three children behind, by the grace of God all three children survived. four months after a little lad by the name of James Mulubah also got infected and died. CAB has since then been heavily challenged; as the economic tolled of the epidemic on CAB has been huge and is still rising. It has not only affected services and operational costs of our vehicle, the work force, social workers and the care givers in community tracing, outreach, but also dramatically increased hygiene and treatment costs. Members were also affected by the restriction on movement of people, reason being that the virus is easily transmitted from persons whom are sick to other people.
The Leadership of CAB, being fully furnished with all the news on the deadly Ebola Virus, resolved to seek help, so as to cater to its membership and their relations. As such, CAB developed a "Proposal to Solicit Assistance" and sent it to the Danish Association of the Blind (DAB) in October of 2014. This proposal spelled out CAB's intent and Ebola intervention for its members.
The Danish Association of the Blind (DAB), being a partner to CAB, graciously and promptly responded to its plight by making a commitment in early October 2014. DAB finally made the amount of Fourteen Thousand Eight Hundred Forty-Six United States Dollars (US$14,846.00) available in early January 2015.
By November 4, 2014, thru January 3, 2015, the Country had recorded 8,000 suspected infection cases and 3,496 deaths nationwide. To date the infectious rate has reduced dramatically as the result of the vigilant strategies and fight against the deadly Ebola Virus. Citizens and guests of this nation are fully cooperating in complying with those preventive measures and awareness protocols put in place by the Ministry of Health.
Upon receipt of the said amount in January 2015, CAB leadership went back to the drawing board to re-strategize and set its priorities since in fact we had initially budgeted for Thirty Two Thousand United States Dollars (US$32,000.00).And we came up with something workable.
IMPLEMENTATION OF INTERVENTION AND ACCOMPANY ACTIVITIES:
The objectives of the intervention as enshrined in the proposal were as follow:
To reduce the risks of Ebola infection among the blind and partially sighted, especially members of CAB living in centers run by the association,
To build the emergency response capacity of CAB to be in readiness to respond to incidents of EBOLA amongst the blind, especially CAB members in CAB's run facilities; and
To meet the livelihood activities on account of EBOLA disease and the increased in need for the support of CAB now experiencing, which are outside of the current resources commitment of the association.
DISCRIPTION OF INTERVENSION:
The three levels of interventions proposed, seeks to achieve the following:
Designed activities around the increasing and sustaining Education awareness amongst the blind concerning Ebola.
The others will involve in providing Ebola related social support to CAB's run centers and build CAB's emergency response capacity to incidents of Ebola amongst our members.
The interventions was also intended to meeting livelihood needs of the blind as their means of livelihood which came under increasing pressure daily, due to the Ebola crisis.
EDUCATION AND AWARENESS REGARDING the DEADLY EBOLA VIRUS:

To train staffers and CAB's membership in all CAB – run centers on deadly Ebola Virus,
Provided support in training Staffers/members to carry out awareness in our various centers.
We developed and disseminated messages on Ebola awareness, preventions and materials for the Blind amongst the Blind and partially sighted.
We aired targeted messages for the blind and partially sighted in the form of Promo and Jingoes on deadly Ebola Virus on local radio stations.
With CAB's Ebola awareness and preventive strategies in place, CAB went ahead and did the following:
A-
Repair of CAB's only existing vehicle
Vehicle running cost for outreach and monitoring
Chartering of other vehicles for awareness and distribution of Ebola materials in five Counties (Montserrado, Margibi, Bomi, Bassa and Bong Counties).
Printing on buckets
Development and Production of Jingoes on discs.
Production of fliers in Brail on Ebola awareness on signs, symptoms, and preventive steps to take in the event where there is a case of Ebola patient.
Follow ups and Monitoring on the field by CAB's Anti Ebola Response Committee.
Serviced, maintained and purchased fuel for operating and running the center generator;
CAB'S INTERVENTION CAMPAIGN ON EBOLA.
The task of creating awareness and distribution materials procured by the Leadership of CAB was dedicated to CAB's Anti Ebola Response Committee. An official launched of the program was planned and kicked up on January 30, 2015 and started with Montserrado County.
This event was held at the CAB National Resource Center for the Blind, located in VAI Town, on the Monrovia Roberts Field Highway, Paynesville City, and Montserrado County. This unique ceremony was graced and performed by Dr. Yanquoi Karbor – Registrar General, Liberia Medical and Dental Council. In attendance were CAB's Leadership, Members, and other well wishers and representatives of the fourth estate, invited guests and citizens within the neighborhood.
Items and supplies were distributed to members of CAB in and around Montserrado County as seen above in the pictures.
The CAB Anti Ebola Response Committee visited Buchanan, Grand Bassa County on February 2, 2015 to continue its awareness and distribution of assorted materials and supplies.
The CAB Anti Ebola Response Committee continue its effort, this time, they visited Margibi County on February 12, 2015 with its awareness and distribution of assorted materials and supplies.
The CAB Anti Ebola Response Committee continue its journey, this time, they visited Grand Cape Mount County &TubmanBurg, Bomi County on February20, 2015 with its awareness and distribution of assorted materials and supplies.
OUT COME OF THE EXERCISE:
The CAB Anti-Ebola Response Committee, successfully executed its planned Ebola preventive awareness campaign and distribution of supplies and materials to its membership in five counties out of seven where its operate.
Members from various branches of CAB were gratified that their Leaders could come to identify with them especially in this Ebola Crisis where national government is overwhelm and stressed in meeting the needs of its citizens. They also extended their thanks and appreciation to DAB and all well-wishers for their good will, support and assistance accorded them through their Leadership.
With early awareness, sensitization and preventive messages oriented across the membership since CAB experienced the death of Mr. Samuel Larma, his wife and the little lad James, CAB is still in search of sourcing more resources to cover Lofa and Nimba, Rivercess, Gbabolu Counties and to prepare for the Post Ebola Recovery Program.
CHALLENGES AND LESSON LEARN:
Surviving the deadly Ebola insurgency in Liberia, its tolled on (CAB) the Blind was graved. The outbreak of the deadly Ebola Virus caught the country un-aware and unpreparedness to cope with its high economical, logistical, technical, manpower and social needs. The Ebola Crisis exposed the country's weak health services, insufficient health facilities, the lack of equipped laboratory and supplies, the lack of medical equipment, drugs and supplies, train manpower and technical knowhow to handle such a big crises.
The Government of Liberia paid less attention to properly remunerating doctors, nurses and other general health workers. They already had low morale before the outbreak, some abandon duties and stayed home for their personal safety, while those brave ones who reported to duties, helped to save lives. While a good number of doctors, nurses, ambulance drivers and health workers were contracted the virus in line with duty and died.
The Impact and tolled on CAB's Membership and operations by the Ebola Virus, hit the social and economic fabric and has risen. It has increased the vulnerability of the blind and partially sighted, threatened the existence of the association and rended many of its members helpless and left many of them to report to the streets to beg as an alternative means of livelihood. The current situation has not only affected services and the workforce, social workers and caregivers in community tracing and outreach, but also dramatically increased sanitation and treatment cost. Furthermore, there were restrictions on movement of people. Since the virus is easily transmitted through person who are sick, members of the Association were highly cautioned to refrain from visiting the sick, no matter closeness of their connection with the person involved, at least until the infectious virus was contained. CAB learned how to prevent the Ebola Virus by adhering to health preventive protocols, and strong, continuous sensitization and awareness.
Observations and Lesson Learned an input from the committee;
Localities, branch offices and communities visited during our Ebola Response outreach were Grand Bassa, Kakata, Margibi, Gbarnga Bong, Bomi Counties and parts of Montserrado. Upon the CAB Anti-Ebola Response committee's arrival in these communities, many of the blind were in jubilant mood ass this was an opportune period they had long hope to have to address some of their concerns. All were pleased to receive individual consignment of anti-Ebola related materials containing powder soap, chlorine/chloride, food as well as Braille Ebola leaflets. This was the first time that individual blind or partially sighted persons were being specifically targeted to personally benefit from the distribution of buckets, food, sanitizer materials and most of all obtain knowledge concerning this deadly disease. Songs were sung, prayers were offered in their local dailets, and vote of thanks was made by the leader of the local branch of CAB in their local language and in English. The Six member Ebola Committee headed by Lorpu Johnson, usually began the sensitization and empowerment workshop by introducing her team members and begun the teaching of Ebola messages. At the end of the 20 minutes presentation, question and answer period was allowed. Such questions were related to the health regulation forbidding them from eating bush meat and concerning the high cost of fish on the local market as some of them relied on bush meat brought in the market by hunters from the bush or meat collected from the hunter's traps in the bush. if they are bless to be offered bush meat or find one on their traps, what should they do?>
2. And without sight, what should they do if someone offers them food with meat in it?
3. Concerning Safe burial. as blind people if a family member dies from other sicknesses other than Ebola, can they touch the body or attend the funeral?
4. If someone or a partner survives the Ebola Virus, how long will it take to have sex with the partner?

And those who are not married what additional measure can they take to keep safe.
How can they know who have the virus? This is where the committee advice them to use condom to have safe sex. These and many more questions were asked.
Observation
We estimate A total of 1700 [one thousand seven hundred] blind and partially sighted who directly benefited from the distribution of the CAB Anti-Ebola Response and community outreach services including those attending Center programs across the nation and coming to meetings, workshops and other related activities. As the Ebola sensitization outreach were being concluded, we noticed that there were few other visually impaired persons who were still walking in as the committee was preparing to leave for other localities and many were still finding their way at the center;
Prior to the Committee's arrival, only the office in Kakata managed to secure a single bucket where individual blind persons assemble for meeting;
We noticed that these blind people had little or no knowledge about this disease;
Lesson Learned:
The Committee having received training was now empowered to educate the blind populace on the prevalence of the Ebola virus disease and measures they should take to keep save.
It is worth noting that CAB has now stood up as the only organization taking up the responsibility to execute such project to sensitize its members, the blind and partially sighted in general who benefited;
By responding to the needs of the blind and partially sighted, CAB has restored confidence among the blind and enabled them regained self-esteem to resume their rightful places into the society. The wellbeing of our colleagues, who could not afford to purchase a single bucket for their safety, has now been reassured.
We also provided 20lt barrel container at each of the Centers we visited;
Members Appeal that the leadership of the association kindly distribute condoms to the various Centers; this will help to keep them safe.
We look forward to your continuous support and visitations, thereby keeping us happy and making life worth living.
POST EBOLA STRATEGY:

Source funds to implement activities mentioned below:
Provide one year hygiene and sanitary supplies for the membership of CAB to ensure prevention and treatment of Ebola.
Provide continuous education and awareness on Ebola.
Produce and distribute Braille leaflets, on relevant information to reduce the risk of Ebola infection amongst the Blind.
Run radio promos on Ebola to keep reminding and sensitizing the blinds and visually impaired person and the general public to stay save.
Re-invigorate CAB membership and its operation.
Re-open the CAB National Resource Institute for the Blind to continue the delivery of education and rehabilitation services to the blind and partially sighted in Liberia.
Conduct regular field monitoring.
Support CAB to reach the two remaining regions with Anti-Ebola materials so as to build hope amongst the blind and partially sighted in these localities. This way we ensure their safety and make them feel a part of the organization and enhance their participation and development.
CONCLUSION:
Surviving the deadly Ebola insurgency in Liberia, was a great challenge and experience we had over the last eleven months. We remain ever grateful to the Danish Association of the Blind (DAB),Dr. Yanquoi Karbor, Registrar General, Liberia Medical & Dental Council, well-wishers and all those who lent us their support in helping us to stay save and to be alive today.
ANNEX I:
WRODINGS OF EBOLA AWARENESS MASSAGES:

What is Ebola? - Ebola is a deadly Virus (Disease).
Currently there are no Vaccines and Treatments.
Ebola is highly communicable. – many people can quickly become infected.
Up to 90% of infected persons will die.
Making contact with the dead bodies can cause infection. – be careful.
Do not wash/bath, touch or kiss infected persons or dead bodies.
Do not wash hands in the same bucket as others who have touched the sick person or dead bodies.
Sick Ebola person can spread the Ebola Disease rapidly to others.
People in direct contact with sick Ebola people are at high risk of catching the virus especially: Family Members, Health Workers and Friends.
You can catch Ebola virus from somebody who is sick or dead.
Always wash your hands regularly with soap.
Do not touch an infected person or their body's fluid, - especially blood, vomit, urine, spit and feces/toilet.
Do not touch or eat bush meat and don't eat bats
Listen to pieces of advice.
If you are sick, immediately call a medical center and tell them about your illness.
If you report your illness early you will be sent to a specialized hospital for treatment.
If you are sick please keep away from others so that they will not get infected (Sick).
If you are sick, be especially careful with your vomit and diarrhea so other people will not come into contact with them.
Ebola is real, keep yourself save.
Ebola is everybody's business, let all of us fight it.
GET TO KNOW EBOLA SIGNS AND SYMPTOMS:
Ebola signs and symptoms are common like those of regular illnesses (Malaria, Typhoid, etc.):
Fever
Nausea
Headache
Tiredness
Red Eyes
Vomiting (it may contain blood)
Diarrhea (it may contain blood)
Coughing (it may contain blood)
Sore Throat.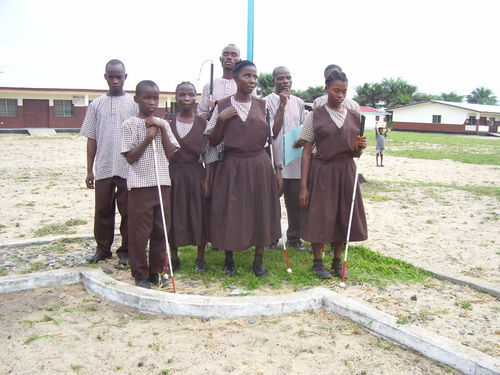 Notifying Visitors of Site Enhancements